ICPC Finest FG Agency in Terms of Integrity – School Director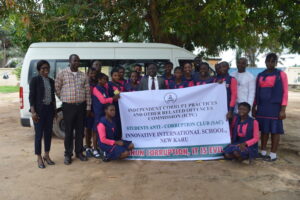 The Director, Innovative International School, New Karu, Pastor Godwin Adebola Oladejobi, has described the Independent Corrupt Practices and Other Related Offences Commission (ICPC) as "One of the finest Federal Government institutions in the country in terms of integrity, transparency and her steadfast commitment to champion anti-corruption crusade in the country."
Pastor Oladejobi made the remark in his welcome address during the inauguration of Students' Anti-Corruption Club (SAC) of the school by ICPC in New Karu, Nasarawa State, recently.
The Director noted that the school was not unaware of the giant strides ICPC was recording in its war against corrupt practices and corrupt individuals especially the Politically Exposed Persons (PEPs) in the country.
He therefore spoke on the importance of keeping oneself upright, stating that the benefits were overwhelming both in this life and in the life to come.
Pastor Oladejobi also explained that in its quest to contribute its quota to making Nigeria a corruption-free country, Innovative School has zero tolerance for examination malpractice.
In his presentation during the inauguration ceremony, Mr. Mfon Umoh of ICPC Education Department enjoined the students to always imbibe honesty, discipline, justice, contentment and concern for others, saying that such were the values needed to fight corruption.
Mr. Umoh also advised them on the need to be integrity keepers because of its enormous benefits such as bringing peace and confidence within oneself, trust earning and keeping one close to the Creator amongst others.
High point of the event was the administration of the oath of office on all the club members who were motivated by the need to fight corruption.
Some of the new members who spoke after the oath of office was administered expressed their desires to turn over a new leaf while pledging to uphold the virtues of integrity, honesty and transparency.