NGO seeks Collaboration with ICPC to protect Whistle Blowers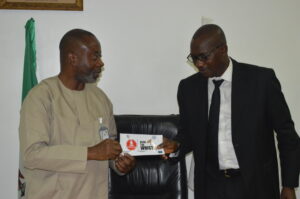 The African Centre for Media and Information Literacy (AFRICMIL), an NGO working on accountability and good governance issues, is seeking to collaborate with Independent Corrupt Practices and Other Related Offences Commission (ICPC) in order to provide adequate protection for whistle blowers.
The coordinator of the NGO, Mr. Chido Onumah, while speaking during a courtesy visit with his team to the Commission, said that a major focus of his organisation was the whistle-blower policy of government: how to help increase awareness for what is expected from the people as well as the kind of reports they should make to ensure the integrity of the policy and also guarantee that whistle-blowers receive adequate protection.
Mr. Onumah said that his NGO was ready to partner with ICPC on the sensitization of the general public towards the policy.
He listed town-hall meetings, radio jingles and the distribution of information and enlightenment campaign materials as some of the enlightenment programmes they have embarked on to educate Nigerians on the whistle-blower policy.
In his response, the acting Chairman of ICPC, Dr. Musa Abubakar, who was represented by Mr. Olusegun Adigun, an Assistant Commissioner said that it was part of the Commission's mandate to educate and enlighten the public on and against corruption, and that ICPC was ready to collaborate with the organisation.
The acting Chairman also said that there was need for NGOs and Civil Society Organizations to embark on the propagation of government policies in order to create more awareness among the general public.