ICPC, UBEC Move to Tackle Corruption in Basic Education Projects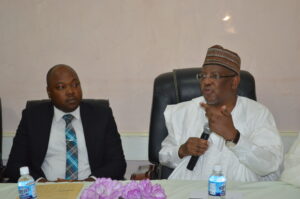 The Executive Secretary of the Universal Basic Education Commission (UBEC) Dr. Hamid Boboyi, has declared his organisation's readiness to partner with the Independent Corrupt Practices and Other Related Offences Commission (ICPC) to tackle corruption in the execution of basic education projects.
Dr. Boboyi made this declaration at the inauguration and induction ceremony of members of the Anti-Corruption and Transparency Unit (ACTU) of UBEC at its headquarters in Abuja recently which was conducted by ICPC.
He said that UBEC management's commitment to ensuring corruption-free processes in the organisation was the reason it put some technological measures in place to reduce corruption in its operations.
Dr. Boboyi challenged the staff of the organisation that monitor projects such as construction and renovation of schools in different parts of the country, to do their work with transparency and accountability to ensure that government funds are spent judiciously.
His words: "…when you go out to monitor projects, do not compromise in the discharge of your duties as such an act will definitely affect the quality of work which will in turn adversely affect the education of the Nigerian child thereby jeopardizing the future of our country."
The Executive Secretary finally assured the Unit of the full support of management to help them achieve their mandate.
Mr. Chukwuma Nwude of Corruption Monitoring and Evaluation Department (ICPC) who represented the Commission at the event, charged the staff of UBEC present at the occasion to adhere strictly to ethics and compliance values in the workplace in order to curb corrupt practices.
"A body such as yours must operate with strict adherence to ethics and compliance values in the workplace to curb corrupt practices, hence the need for a vibrant anti-corruption unit to lead the fight against corruption", he said.
He then called on the new executive of the ACTU not to use their office as a tool to victimize or intimidate other staff but to rather work harmoniously with management and all staff.
In his acceptance remarks, the newly-inaugurated chairman of UBEC ACTU, Rt. Rev. Edwin Jarumai gave the assurance that his team would achieve their mandate with the support of management as earlier expressed by the Executive Secretary.
He concluded that his team would discharge their duties with the fear of God.