CCT trial: Supreme Court adjourns Saraki, FG appeals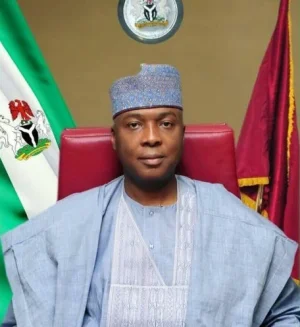 The Supreme Court on Wednesday adjourned the appeal by the Senate President, Dr. Bukola Saraki, and the cross-appeal filed by the Federal Government in connection with Saraki's trial before the Code of Conduct Tribunal.
The Justice Tanko Muhammad-led five-man panel of the apex court said, while adjourning the case on Wednesday, that a fresh hearing date might be fixed for next week.
"We may give you another date for next week, we may not," Justice Muhammed.
The Abuja Division of the Court of Appeal in its judgment delivered on December 12, 2017 restored three out of the 18 counts of false assets declaration earlier dismissed by the Danladi Umar-led CCT in June 2017.
Saraki subsequently filed seven grounds notice of appeal before the Supreme Court against the part of the Court of Appeal's judgment which restored the three counts.
The Federal Government also filed a cross-appeal of 15 grounds before the apex court against the part of the judgment which affirmed the dismissal of the 15 counts.
Both the appellants and the cross-appellant had filed separate motions for the regularisation of their separate briefs of arguments before the apex court.
Saraki, by the motion filed through his counsel, Mr. Paul Usoro (SAN), sought to replace his brief of argument with a fresh one.
On its part, the Federal Government by its motion filed through its lawyer, Mr. Rotimi Jacobs (SAN), sought an extension of time within which it brief of argument in its cross-appeal, although already filed, would be deemed to have been properly filed.
The Wednesday's proceedings were for the hearing of the motions.
But as soon as the proceedings started, Justice Muhammad who led the five-man panel of the apex court queried why the Federal Government's lawyer, Mr. Rotimi Jacobs (SAN), did not exhibit the June 14, 2017 judgment of the CCT which had dismissed the entire 18 counts preferred against Saraki.
In response, Jacobs explained that he did not bother to exhibit the CCT's judgment because it was already part of the records before the court.
But Justice Tanko disagreed with Jacobs' explanation insisting that the lawyer's failure to exhibit the CCT's judgment would render the motion incompetent.